How to Predict Flight Prices? 7 Best Tools To Use
Travel Industry has evolved over the years in many ways and people are adopting smart solutions to enhance their traveling experience. For such smooth working, tools like flight forecasting gained huge popularity. It is something that helps travelers to predict flight fares in advance and book a suitable traveling schedule for themselves. Through great research and data analysis, it is quite possible to determine when we can expect a dip in the pricing of the respective flights.  So, if you are wondering what flight forecasting is, how it works, and how you can use it, continue reading the blog to learn everything related to the term.
What Is Flight Forecasting?
Flight Forecasting feeds information through multiple sources and helps its users predict the turbulent patterns of airfare pricing. It is a broader movement to provide customers with more information in the self-service travel market.
Be it any industry, customers love discounts and offers, thus providing them with the exact services they are looking for can help any business to grow over time.
How to Predict Airline Prices?
Flight Price Forecast is one of the most popular tools used by many businesses to help customers predict the ever-changing pricing of flights in advance. But such businesses need to know about how flight price forecasts work. Many such business and price intelligence tools are based largely on the data, crunching through a huge amount of historical data, such as price fluctuations, airline behavior, and economic conditions to help travelers predict costs.
It provides customers with more information and eases traveling so that they can make an informed booking with the best rates. When customers are pre-informed about when the will flight price increase, they can accordingly pre-plan their traveling schedule to avoid unnecessary expenses. Now, customers can get hints and tips about when flight prices go down to gain an advantage. Many online booking platforms and mobile apps provide the same facility to their customers to attract more bookings by providing flight forecasting. If you're a developer seeking a way of creating an app for live flight data head over to the blog.

Why Do Flight Prices Fluctuate So Much?

But another question that arises is why flight prices fluctuate so much. To answer the question, you must be familiar with the demand and supply rule that is applicable almost in every other business. Simply, flight prices gradually increase when there is a high demand for traveling at a particular destination.
This generally happens in peak seasons such as holidays or festival times. Similarly, in the off-season, when there is lower demand, eventually the prices drop. So, in short, the flight price fluctuation rate mostly depends on demand. Other factors might include weather conditions, travel routes, aircraft type, etc.
How Flight API Can Help You in Flight Fare Prediction?
Flight Price API is one of the best tools for predicting flight fares by getting access to real-time data and continuous updates on flight location. It is a suitable technology that keeps track of fluctuating flight prices and their site. By tracking through the most reliable sources, it comes up with the best results based on your search query. By analyzing such filtered data with real-time updates, it becomes easy for customers to make better predictions. Skip the time-consuming manual data collection process and avoid errors by getting yourself Flight API.
With efficient data comes comprehensive tracking and prediction methods that are result-oriented. So, what are you waiting for? Contact Us Now To Start Your Journey Toward An Efficient Flight Fare Prediction.
Why Should You Use Flight API for Flight Price Prediction?
If you weren't convinced enough to move your step toward Flight API, here are a few other reasons why you should use our Flight API for Flight Price Prediction.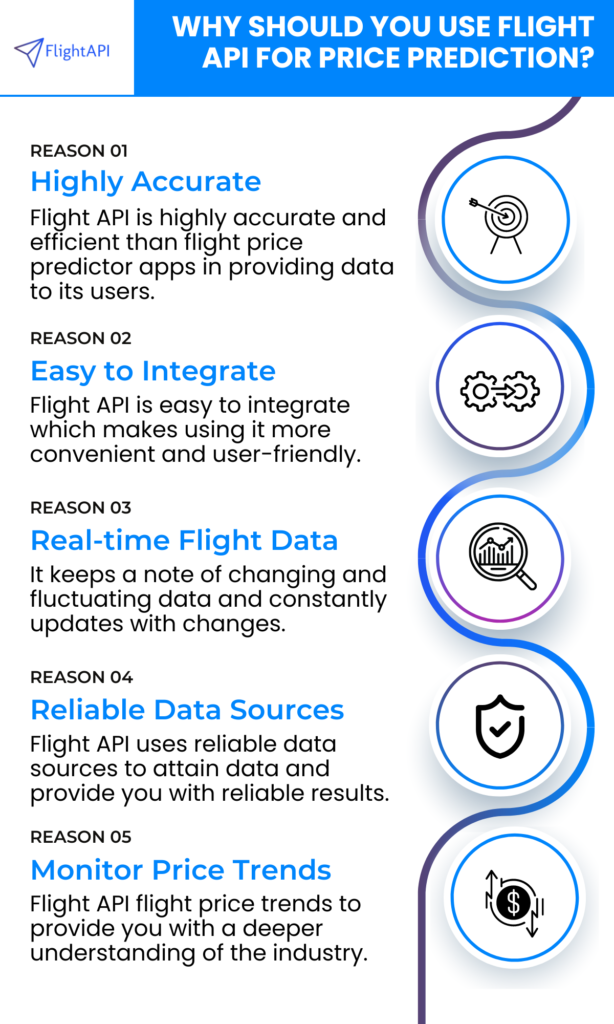 1. Highly Accurate
Flight API is a flight status API that is highly accurate and efficient in providing data to its users. It provides more accurate real-time data than the flight cost predictor app. This makes predictions and data analysis more result-oriented.
2. Easy to Integrate
Another essential feature of this airfare API is that it is easy to integrate which makes using it more convenient and user-friendly. So, if you are a business owner looking for a suitable solution that integrates with your internal processes to generate optimum results, Flight API is the right choice.
3. Real-time Flight Data
Real-time flight API keeps a note of changing and fluctuating data. Also, it constantly updates you with any changes that happen at an instant time.
4. Reliable Data Sources
Flight API uses reliable data sources to attain data and provide you with reliable results. Unlike other applications that might fraud you with false data accumulation, flight API is much more reliable.
5. Monitor and Stores Flight Price Trends
Flight API continuously keeps track of real-time flight price trends to provide you with a deeper understanding of the industry. Also, through it, you can gain historical flight pricing data from 2 days ago and come up with a better future strategy that helps you and your customers get advantages.
7 Best Flight Price Predictor Tools You Can Use
1. Google Flights
Google flight data api provides a dedicated airline price prediction to help you save the airfare for any particular date. Also, the best part about the application is it provides you with alerts when prices are expected to go up and also suggests the best time to travel with the cheapest fares. This allows customers to easily plan their traveling and schedule accordingly so that they can benefit to the optimum level.
2. Skyscanner
Sky scanner is one of those popular flight cost predictor apps that helps its customers to track airfare. Also, its easy-to-use interface allows users to search and compare different flights for a particular location. Also, it gives you an insight into the cheapest months and dates you can fly to save up your budget. Apart from just airfare tracking the app also offers the option to book your whole trip efficiently.
3. Kayak
Kayak is another airfare prediction tool that obtains flight information from various travel sites to offer you the best deal for flights, hotels, hotels, or rental cars. It is a solution that allows you to organize all your travel plans in a single place and also to remain updated with the changing flight schedules.
4. Hitlist
Hitlist is a flight price estimator application that scans through various flight tariffs and suggests you the best itineraries and times for optimal travel. Apart from that it also suggests to you the best destinations that you can travel to at a particular time. Furthermore, it also has a feature to view historical airfare price trends and make smarter booking decisions.
5. Hopper
Hopper is another one of the most popular international flight price predictors. It features some of the major airlines such as British Airways, Lufthansa, American Airlines, and much more. It sends you to push notifications when the airfare is at its lowest and helps you make an optimal decision.
6. Hipmunk
Hipmunk is a flight price forecaster that comes with a bunch of additional features in addition to regular airfare tracking. It compares prices from the top travel sites and helps its customers to find the best hotel and flight deals within their budget. It also provides an easy-to-search feature which makes it easier for customers to search for different flights by using multiple filters such as duration, layover, and price.
Factors Influencing Airline Flight Prediction
Nowadays, airline ticket prices are dynamically and significantly varying in nature. As airlines use various kinds of computational techniques to increase revenue, prices can vary over time. Multiple factors influence airline flight prediction and are both internal and external. If you look from the customer's perspective, this could generally happen because of the restricted features extracted from historical ticket price data, ticket purchase date, and departure date. And on the internal factors, includes seasonality, holidays, supply, fare class, availability of seeds, current market demands, and competitive moves by other airlines.
Conclusion:
Whatever your reason and purpose are for flight forecasting, we hope that you are now fully acknowledged with the term and also have found a suitable application for yourself. The suggestions mentioned above will help you to discover the best flight price forecasting application and will keep you informed with detailed and useful information. These tools and sites are changing the way that consumers travel and book their flights.
With customers becoming more and more informed and updated, the travel sector must provide equivalent smart technology solutions to meet up their requirements. If you're looking for more technology updates follow this modern technology blog.
Prioritize your customer experience by getting yourself A user-friendly technology enterprise transparent application such as the Airline API. If you are convinced by the reasons mentioned above, contact us to start your journey with the flight API today.